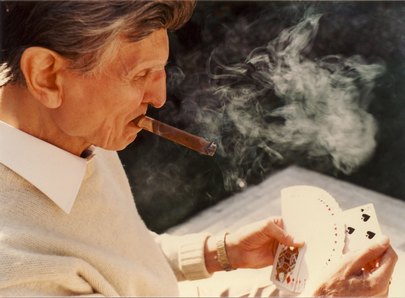 Ed Marlo has distinguished himself as the most prolific creator and writer in the field of card magic that has ever lived.
Born Edward Malkowski in Chicago, Illinois, Eddie began his writing career with the publication of "Pasteboard Presto" in 1938.
His attraction to a pack of cards began at a far earlier age. Asked "why cards?" Ed replied, "I could pick up a fresh deck for a nickel and create a lot of magic with it". The mechanical box effects of the day were out of his price range at the time. Ed demonically devoured every magic book he could find, and a legend began.
Ed's tireless efforts at exploring the possibilities of card magic never ceased, and resulted in a body of work that has changed the landscape of card magic forever. His "Revolutionary Card Technique" series has become the bible for those interested in sleight-of-hand card magic. His dozens of books have inpired magicians the world over, and no current card man can hold a deck of cards without saying "thank you" to the Cardician himself, Edward Marlo.
A few personal facets of Ed Marlo include his happy marriage to the only woman he ever dated, Muriel Meyer, a relationship which began in grade school. A proud husband, father and grandfather, Ed Marlo was quite proficient at ping pong, an outstanding baseball player, an excellent singer and an expert on western memoribilia then - with a particular fascination with gunslingers. In one Chicago Magic-Land event, topping the bill was Ed and Muriel. Muriel performed the magic, while Eddie sang!